Meet Dr. Andrew Rawlings
A Desire to Help People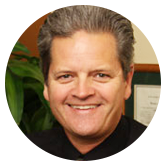 When he was a senior in high school, Dr. Rawlings knew he wanted to work with people, but had no idea where life would lead him. "Then I went to see a chiropractor who helped me with some low back pain from rowing in college. In doing so, he also opened a window to my future. He taught me so much about the value of helping people with pretty much just your hands and your head." From that point on he was driven to be a chiropractor. In practice since 1990, Dr. Rawlings knows becoming a chiropractor was one of the best decisions he ever made.

Seeing His Loved Ones' Health Improve
When Dr. Rawling's wife Tessa was 8 years old, she fell off a high dive, breaking her skull in two places. Since then she has suffered from debilitating migraine headaches. "With the chiropractic techniques we use in our office, her life has changed for the better. Though she still gets an occasional headache, they are brief and much less severe." One of Dr. Rawling's teenage daughters had scoliosis and experienced dramatic results with chiropractic. "With chiropractic care, her posture is now normal, and the scoliosis is corrected. Helping my loved ones drove home the power of chiropractic and why I do what I do."
Staying Active in Irvine
When he's not at the practice, Dr. Rawlings enjoys spending time with Tessa, the woman of his dreams, and his two daughters. He spends most of his free time with his girls and their activities, which include volleyball games and tournaments. "I've also been involved in their schools for years, having been PTA president for both their elementary school and middle schools."
He's been happy to call Irvine home since 1990 and loves being close to the water. "We love the water, and spend most of our vacation time at lakes,  with the river and the beach." The family enjoys kayaking, wakeboarding, water skiing and tubing. In addition to keeping active, Dr. Rawlings and his family all get adjusted regularly, not because they're in pain, but because regular chiropractic care allows them to experience better overall health!
Dr. Rawlings, an alumnus of Orange Coast College and the crew, has been involved with the crew and their activities for years. "Since 1993, the men and women of the crew have been coming to see me as the crew chiropractor." He also regularly gives health screenings and seminars on chiropractic and various safety topics both in the office and around Irvine.
Experience better health and wellness with natural chiropractic care. Schedule an appointment with Dr. Rawlings, a Doctor of Chiropractic, today!
---
Irvine Chiropractor Dr. Andrew Rawlings
Irvine Health Center | (949) 551-0194